Project Staff
Project Director: Professor Larry J Schaaf
e-mail: ljswhft@gmail.com
In 1999, Schaaf was joined by Monica Thorp as a Consultant Editor. From 2000-2003 the main staff consisted of Dr Kelley Wilder, Assistant Editor; Jeanette Fenyo, Administrative & Editorial Assistant; Graeme Cannon, Computing Officer; and Monica Thorp, Consultant Editor. This period signalled the accomplishment of the main AHRB-funded project. During 2003-2004, Dr Georgia Toutziari served as Assistant Editor & Project Administrator and Graeme Cannon continued as Computing Officer; valuable contributions were made by interns Niels Henriksen and Cristina Johnston.
Other staff members of the project at various times included : Editorial Assistants: Jack Harvey, Stephen Robinson; Foreign Language Translators/Transcribers: Julie Barr, Marion Bernard, Mario Brandhorst, Sally Clark, Paolo Enea, Valerie Howes, Cristina Johnston, Marlene Malfin, Lesley Anne Rankin, Dr Mary Rigby;
Website: Helen MacDonald, Jennifer Tracey.
In 2006, the project was transferred to Knowledge Media Design, De Montfort University, where the code was revised by David Gerrard. It is maintained by Professor Stephen Brown.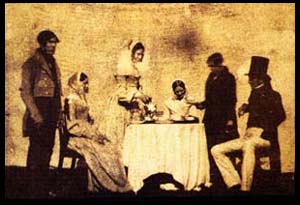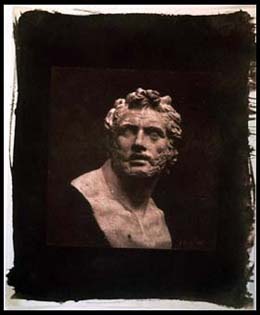 Dr Margaret F MacDonald, Principal Research Fellow, Centre for Whistler Studies, University of Glasgow. The Centre is preparing an electronic edition of the 10,000 letters that comprise the Whistler correspondence - see http://www.whistler.arts.gla.ac.uk/. Dr MacDonald is an artist who has had a long involvement with the University's significant collection of the photographs of D O Hill & Robert Adamson.
Professor Graham Smith, Head of the School of Art History, University of St Andrews; editor of the international journal History of Photography. Professor Smith is an authority on Italian art and on the early history of photography in Italy.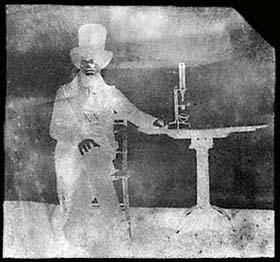 ITALIAN: Professor Alberto Meschiari, Philosophy and Letters, Scuola Normale Superiore di Pisa. Prof Meschiari is a member of the Editorial Board of the Fondazione Giorgio Ronchi in Florence and is a member of the Società Italiana di Storia della Scienza and the Società Italiana degli Storici della Fisica e dell'Astronomia. He has published extensively on the history of science and was recently appointed head of the project for the correspondence and works of Giovanni Battista Amici (1786-1863). For further details, see website.
LACOCK: Roger C Watson, Collections Cataloguer, Fox Talbot Museum, Lacock, England. Formerly of the George Eastman House, Rochester, Mr Watson has diverse experience as a photographic conservator; database designer, lecturer and expert on daguerreotypy. He is presently preparing for The National Trust an item-level catalogue of the Talbot family's generous deposit at the Fox Talbot Museum.
PHYSICS: Dr Norman MacDonald, former Head of Nuclear Structure Theory Group at Glasgow University and an authority on biomathematics and the theory of systems with delay; author of Trees and Networks and Biological Delay Systems and a contributor to the Scottish Society for the History of Photography.
TALBOT STUDIES: Dr Kelley Wilder, Senior Research Fellow, De Montfort University. Formerly the Assistant Editor of the Talbot Correspondence Project, she is exploring the relationships between photographic history, the history of science and cultural history as they pertain to the invention of photography. kwilder@dmu.ac.uk
VICTORIAN STUDIES: Roger Taylor, is Emeritus Professor of Photographic History, De Montfort University, Leicester and formerly Senior Curator of Photographs and Head of Research Development for the then National Museum of Photography, Film & Television, now the National Media Museum, Bradford. He is the author of numerous books and journal articles, the most recent being Photographs Exhibited in Britain, 1839-1865 and Lewis Carroll Photographer: The Princeton Albums. He is presently working on a history of the British calotype. roger.taylor@btinternet.com
Project Advisors
The Advisory Board assists in evaluating standards and working procedures for the project and helps to monitor the project's progress. Individual members also contribute specific technical and scholarly experience and assist in contacting certain collections.
Dr Frank AJL James, The Royal Institution of Great Britain, London; Editor of The Correspondence of Michael Faraday. Talbot and Faraday corresponded with each other and moved within many of the same scientific circles. Dr James has published four printed volumes of Faraday's letters. For further details, see http://www.rigb.org/our-history/michael-faraday/michael-faraday-correspondence
Professor Martin Kemp, History of Art Department, Oxford University; a noted authority on the influence of science on art, an area of study especially relevant to Talbot's career. Professor Kemp has been an advisor on electronic editions and has published extensively in the history of photography.
Corresponding Editors
BOTANY: Dr Henry J. Noltie, plant taxonomist, Royal Botanic Garden, Edinburgh. His current work includes the Garden's collection of botanical drawings made for Scottish surgeons working for the (British) East India Company by Indian Artists, and Robert Wight and the Madras Presidency. Dr Noltie is interested in questions of exhibitions and curation and has jointly curated numerous botanical exhibitions at Inverleith House, the gallery of the RBGE. He has recently completed a book on the drawings made at the Dapuri Botanic Garden in the Bombay Presidency for Alexander Gibson. h.noltie@rbge.org.uk
CHEMISTRY: Dr Mike Ware, former Lecturer in Inorganic Chemistry, University of Manchester; Fellow of the Royal Society of Chemistry. Dr Ware is an exhibiting photographer and an independent researcher in the science, history, conservation and art of alternative photographic processes. He is the author of numerous journal articles and books on Talbot's early photographic work and Herschel's cyanotype process. For further details, see http://www.mikeware.co.uk/mikeware/main.html
CLASSICS: Peter Black, Prints Curator, Hunterian Art Gallery, Glasgow; studied classics, and lectured on the history of printmaking at Anglia Polytechnic University in Cambridge. His publications include the catalogue raisonne of Stanley William Hayter, and his research interests include Rubens (another classical scholar and letter writer). p.black@museum.gla.ac.uk
CUNEIFORM: Professor Kevin James Cathcart, Campion Hall, University of Oxford; Professor Emeritus and former Head of Department, Near Eastern Languages, University College, Dublin. Dr Cathcart has a Doctorate in Near Eastern Languages from the Pontifical Biblical Institute in Rome. He is a Member of the Royal Irish Academy and the Royal Danish Academy of Sciences and Letters. His numerous publications include The Edward Hincks Bicentenary Lectures.
FRENCH: Cristina Johnston, University of Glasgow; graduated with MA (Honors) in French and Philosophy from the University and is currently completing her PhD on the use of the spoken word in contemporary French cinema. Having been raised by a Swiss mother and a Scottish father, Ms Johnston has lived and studied extensively in France and Switzerland. C.Johnston@french.arts.gla.ac.uk
HISTORY OF TECHNOLOGY: Dr. Robert Rosenberg, former director of the Thomas Edison Papers, now editor of the Johns Hopkins University Press Guide to the History of Technology in American Lives. Dr. Rosenberg worked on the Edison Papers for nineteen years, overseeing and participating in the production of the first three printed volumes of documents and designing the project's website, online database, and document image delivery system. See http://edison.rutgers.edu/